class calendar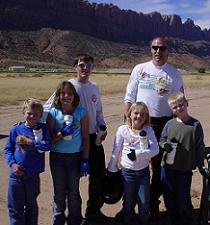 Saturday March 28th, 2009 from 10AM to 2PM at the Moab Motocross Track
LEARN TO RIDE OFF-HIGHWAY VEHICLES SAFELY & RESPONSIBLY!
This class certifies youth ages 8-16 to legally operate OHVs on public lands in Utah. A student can only earn one certification (motorcycle or ATV) on the day of the event.
There will be two parts: take and review a written test, and then learn riding skills on a controlled track.
Students must register through Utah State Parks www.stateparks.utah.gov/ohv or call 800-OHV-RIDE). They will send you a course book to study before the class.
Bring your registration/course materials, a motorcycle or ATV, helmet/safety gear, water/snacks, and a parent or guardian. Parents must be present during the entire class period.
The class will be held at the new motocross track, up Spanish Valley. Take Highway 191 approximately seven miles south of Moab, and turn left at the sign for Ken's Lake onto Old Airport Drive. At the T-intersection, turn right onto Spanish Valley Drive. Go another quarter-mile and turn right into the track. Follow the graded road around the south side to the west side, behind the bleachers.
We will ride a course set up in the parking lot, and are exempt from the entry fee. If you want to ride the MX track after the class, you'll need to sign up and pay the Red Rock Dirt Rider staff on site.
Contact us if you want to become certified for operating a motorcycle or ATV on public lands in Utah.