trails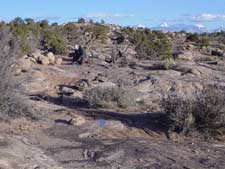 A successful recreation program begins with well-managed trails. The Ride with Respect trail crew covers the gamut from construction, to signage, and through continual maintenance. Preserving the narrowness of routes is our primary focus, whether for singletrack, ATV trail, or road. Normally, our work is limited to maintaining existing trails. However, in the year 2001 we had the unique opportunity to construct new trail, called the Sovereign Singletrack.

case study - Sovereign Trail System

The Sovereign Trail is a multiple-use trail system, ten miles northwest of Moab. The Utah Department of Natural Resources division of Forestry, Fire, and State Lands permitted Ride with Respect to create recreational opportunities on state land. We constructed 13 miles of singletrack and 3 miles of ATV trail on State Sovereign Land. We also signed 17 miles of existing roads on State Sovereign and School & Institutional Trust Land. We signed two routes, the Sovereign Singletrack and the Sovereign ATV Loop.

The trail system provides something for everyone. The Sovereign Singletrack is a quality trail for motorcyclists, bicyclists, horsemen, and hikers. The Sovereign ATV Loop is not only for ATV's, but also accommodates full-size vehicles by utilizing alternate roads where the primary route is narrow. As for its success, the proof is in the pudding, so to speak. Thousands of people have used the trail, and we receive compliments from motorized and non-motorized users, alike.

To date, Ride with Respect has contributed more than 1,000 hours of work to the Sovereign Trail. This includes constructing 16 miles of trail, creating four trailhead signs, placing over one hundred fiberglass posts and twelve wooden signs. We feel privileged to be given leeway in managing the trail system, so we have thought through each of our decisions, carefully. The majority of the work, however, is purely physical, and a true labor of love.

Ride with Respect performed the vast majority of trail duties, but we did receive help from a variety of sources. We received over $2,000 in signage material from the State of Utah, divisions of Parks & Recreation, School & Institutional Trust Lands, and Forestry, Fire & State Lands. The Moab Trails Alliance has aided us in maintaining several sections of trail. And a dozen Moab youth have constructed and placed our signs for their Eagle Scout projects.