volunteer crew calendar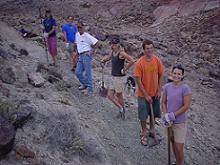 SOVEREIGN TRAIL MAINTENANCE
Saturday 3/6/10
Thursday 3/11/10
Wednesday 3/17/10
Sunday 3/21/10
Friday 3/26/10
10AM to 3PM
The vernal equinox may be three weeks away. But in Moab, spring has sprung!
As of the last day in February it's 50F, and forecasted to remain that way each day this week. That ought to melt the snow patches and make for prime riding. (*Avoid mud, especially clay-rich soil on north-facing hills, to keep the soil on the trail and off your face.)
A little moisture is also ideal for trail work. Help RwR prepare for another year of twelve thousand two-wheelers.
As always, lunch and hand tools will be provided. Bring water, work gloves, sturdy shoes, and a rain jacket. Meet beside Uranium Cycles, and we'll carpool.
For any questions, or to schedule additional dates, call Clif at 259-8334.