Moab BLM details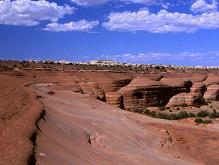 The following is an example of effective comments to the Moab BLM regarding its draft Resource Management Plan and travel plan. Comments were due 11/30/07. Ride with Respect will update its website when future chances to comment arise.
In Chapter 1 of the draft RMP, the first issue asks "How can increased recreation use, especially motorized vehicle access, be managed while protecting natural resource values?" I believe the solution is to provide diverse recreational opportunities with sufficient quantity and quality. To this end, I support the area and route designations proposed by Ride with Respect, nonprofit.
Section 4.3.10 (pages 4-191&2) generalizes the interests of recreationists based on their types of travel. It correctly states that non-mechanized users prefer non-mechanized trails, and that mechanized-users prefer mechanized trails. Just as non-motorized uses are dissected, motorized uses should be considered distinctly. Most motorcyclists prefer singletrack trails, ATV riders prefer ATV trails, and four-wheeling drivers prefer doubletrack more than improved roads. All recreation groups seek variety, including a range of terrain, route width, and difficulty. Trials bicyclists and motorcyclists depend on small, unrestricted areas. Freeride bicycling and 4WD rock crawling rely on challenging routes, usually in high density.
Section 3.11.2.6 (page 3-85&6) addresses use conflict and displacement, but not adequately so. Indeed, conflicts typically begin when a more dominant use compromises the experience of a less dominant use. Next, it states that less dominant uses become displaced. Then it recognizes that "The multi-use concept becomes strained when use levels reach a threshold." The plan should more explicitly state that conflict is exacerbated by crowding. Additionally, the plan should better address the scope of conflicts. They occur at society, group, and individual levels. They occur between management, user groups, and within user groups. Although conflicts generally begin asymmetrically, the direction is not always consistent. Finally, the plan should acknowledge that conflicts become symmetrical when management actions unduly restrict the more dominant uses.
In many forms, conflicts exist. The question becomes "What is the appropriate management response?" Ride with Respect supports many mitigation measures that can happen during implementation. I am pleased to read Table 2.1 Recreation (page 2-17), which plans to provide visitor information and outreach programs that foster a land ethic. For planning, I suggest highlighting one more critical item. Noise is the most common complaint against OHVs. Thus for all vehicles across the entire field office I recommend implementing and enforcing and 96-decibel limit based on the "20-inch" test (SAE J1287).
In response to recreation conflict, a common trap is for agencies to fall into the "ignore and restrict" pattern. To some extent, the Moab BLM has ignored recreation conflicts to date. The pattern goes that the agency will eventually restrict the uses it has partly ignored. Of course with more people doing more activities, some restrictions are necessary. But restrictions alone would lead to conflict symmetry and crowding. Rather, the solution involves a combination of trail-sharing and zoning across the field office. For example, the BLM could identify choice areas that are less-valuable among motorized recreationists in order to create non-motorized opportunities. In areas more important to motorized users, the agency should instead develop sustainable, non-motorized opportunities to resolve conflicts.
It is sensible to limit motorized travel to designated routes, plus inventoried roads for mechanized travel. Such an extensive restriction requires careful consideration of its impacts. Sections 3.11.1.2.16 and 3.17.2 (pages 3-79 and 3-158) estimate road mileage based on county inventories. They mention that "motorcycle routes" exist around White Wash. The document should specify that this includes motorcycle singletrack and ATV trails. Additionally, off-highway vehicle trails exist in high concentration from "Utah Rims" to Cottonwood Wash. Isolated OHV routes exist throughout the Moab field office, such as the Thompson Trail. Mountain bike trails also exist beyond those mapped in Alternative D.
The 2006 BLM technical reference on Planning and Conducting Route Inventories proclaims that "Route inventories are an integral part of Land Use Plans (LUPs)/Resource Management Plans (RMPs)" (page 5). Likewise, the 2001 BLM National Management Strategy for Motorized OHV Use asserts that "Successful resource management depends on gathering quality data using the best science available" (page 15).In the Moab field office, non-road mountain bike, motorcycle, and ATV trails were never inventoried. The only exceptions are roughly 15 square-miles around Bitter Creek and 100 square-miles around White Wash, which together comprise less than 5% of the field office. Grand County's Trail Mix Master Plan highlighted many popular bicycle trails, but was not intended as an inventory. Beyond the county roads, several hundred miles of trail exist, if not thousands.
Short of performing an inventory of trails, Moab BLM plans should at least acknowledge that they cannot fully measure the impacts to bicycling, motorcycling, and ATV riding in the absence of a trail inventory. To compensate for this, the agency should consider designating trail data provided during the planning process. Once the travel plan is implemented, BLM should practice adaptive management by testing mitigation techniques such as visitor education, signage, trail maintenance, and/or rerouting before prohibiting access. Further, the agency should prioritize the development of new bicycle, motorcycle, and ATV trails, with preference to SRMAs, and especially to the appropriate focus areas. Trail expansion would avoid pitting recreationists against one another on a rigid system of roads. By the same token, wide wash bottoms should remain open to all vehicles, instead of unduly restricting them to smaller vehicles.
To proactively manage recreation, Special Recreation Management Areas should be designated in anticipation of increasing visitation, not in reaction to it. SRMA boundaries and focus areas should be large enough to "grow into," as trends emerge. Focus areas should provide for a wide range of specialized sports.
Likewise, trails should not be ruled out simply by virtue of their low use levels. Low-use trails represent an opportunity to get 'ahead of the curve,' and prevent them from deteriorating. Some trails only appear to experience low use because they are durable, or have not been abused. Even if they never become popular, low-use trails often provide a unique experience for those seeking solitude.
Designating campsites should be done with public participation. Camping should not be confined to one mass site for any given. Most public-land users prefer dispersed camping. The Ruby Ranch Road and Utah Rims should each provide a dozen sites. In areas where camping is not restricted to designated sites, the travel plan should be adjusted to access campsites.
The Moab Extensive Recreation Management Area should provide primitive roads, singletrack trails, and dry washes to connect SRMAs and towns. Such routes offer opportunities for long-distance tours, which are increasingly popular among motorized and mechanized enthusiasts. Additionally, such links boost rural economies and disperse use, thereby alleviating conflicts.
Now let's apply these principles to the draft area and route designations in Alternative C. Broadly speaking, the road plan provides sufficient road-based opportunities. More of the existing roads surrounding Interstate 70 should be designated for long-distance touring. Compared to the road plan, motorized and mechanized trail designations are scarce. So the final plan should designate trails in Alternative D, plus others submitted by recreationists during this entire planning process. For all of the recreation conflict that the draft RMP purports, the travel plan in Alternative C does little to expand non-motorized opportunities. Several areas could provide substantial primitive opportunities by closing a few less-valuable roads. Homogeneity of the road plan would intensify conflicts and hurt all user groups in the long term. Alternatively, a few steps to diversify the travel plan could benefit recreationists across the activity spectrum.
For the following site-specific comments, please refer to maps provided by Ride with Respect, nonprofit.
In the ERMA, Thompson Trail is unique by virtue of its sheer length and remoteness. Trail adoption by volunteers could preserve its singletrack character. Together with Thompson Wash and Copper Ridge Motorcycle Loop, Thompson Trail creates a unique route from the Sovereign Trail to Colorado. The Green River Gap and Browns Wash tie Colorado to the town of Green River. These singletracks should be preserved, along with adjacent doubletracks. Together such remote, rugged routes offer a chance to experience the desert like neither SRMAs nor graded roads can do.
Likewise, Kokopelli's Trail could be enhanced to create higher quality opportunities for motorized and non-motorized travel. The RMP should pledge to construct a Kokopelli Singletrack and mark a Kokopelli Doubletrack that would roughly parallel one another. Through Utah Rims, the Singletrack should be open to motorcycles. Through Yellowjacket, the Singletrack should actually be ATV trail. Everywhere else, the Singletrack should be non-motorized. The Doubletrack would generally follow the current trail, with revisions to achieve a rugged, backcountry opportunity.
Northeast of Green River, the non-WSA lands surrounding Tusher Canyon have great potential for mountain bike trails. This northwest corner of the Bookcliffs has access roads, rims with sweeping views including Desolation Canyon, and relatively good soil development. Similar to bicycle trails in Fruita, a Tusher Canyon trail system would boost the economy of Green River, and dedicate quality trails for mountain biking.
I generally support establishment of Labyrinth Rims SRMA in Alternative C. However, the Dee Pass Motorized Trail focus area should be expanded beyond Alternative D eastward to the powerlines. The White Wash Sand Dunes OHV Open Area should be expanded by two square-miles beyond Alternative D (northward to Ruby Ranch Road and southward toward Red Wash Road). Fee programs should be determined with public involvement through a Resource Advisory Council . Approximately twenty-five miles of the surrounding OHV trails are popular among ATV riders, and should be designated as such. The Dead Cow Loop could be designated with the exception of the "low-water" alternate, to reduce riparian impacts. The Tenmile Point area from Dripping Spring to Levi Well has relatively few routes and could be designated for non-mechanized focus. Tenmile Wash should be designated without speed limits, since speed has little influence on the biophysical impacts of travel.
The southwest corner of Labyrinth Rims is a relatively primitive area, and should be managed to preserve this quality. Spring Canyon, Hellroaring Canyon, Spring Canyon Point, Deadman Point, and south Horsethief Point are best allocated as a non-mechanized focus. Motorized use there can be adequately accommodated by the Jeep Safari routes, plus a few choice spurs to overlooks. Closing the river road downstream from Spring Canyon would reduce recreation conflicts, while retaining access to Hey Joe Mine. Dubinky Wash is valuable for all vehicle use, and the singletrack near Jug Rock should remain available for motorcycles.
North of Highway 313, the singletrack which drops off Hidden Canyon Rims is a key link for motorcyclists and bicyclists, alike. The Mill Canyon - Sevenmile Rim mountain bike area should be rotated to become Mill Canyon - Tusher Rims. Tusher has better bicycling potential than Sevenmile due to less sand, more slickrock, and fewer roads. Then Sevenmile - Upper Courthouse motorized backcountry touring area could be created to recognize the high-value roads that extend through Monitor & Merrimac to Big Mesa campground. Upper Sevenmile Equestrian Area should be expanded by four square-miles to include some terrain above the rim.
South of Highway 313, an additional bicycle focus area west of South Fork Sevenmile Canyon could provide cross-country and vehicle-assisted rides from the upper Gemini trailhead down to the switchbacks on Highway 313. The Gemini Bridges motorized backcountry touring area could be shifted to include all of Little Canyon Rim. The spur to Gemini Bridges should remain open to allow the unique experience of driving the bridge. Mountain bike alternates to the roads could be developed in this area, as proposed by Trail Mix. The Goldbar hiking area could be expanded further up Day Canyon, while only closing one spur road.
The Klondike Mountain Bike focus area is a great foundation to develop mechanized singletrack. Most spur roads could be closed east of Bar M and Sovereign Trail areas. Still, the Sovereign ATV Loop should be permitted in its current location. Spur roads should also be closed north of the Copper Ridge Sauropod Trackway. Copper Ridge Motorcycle Loop is highly valuable to motorcyclists. Trail adoption could help to ensure enjoyment for mountain bikers, like the Sovereign Trail. And like the Sovereign ATV Loop, the Copper Ridge Motorcycle Loop could actually protect any non-mechanized trails that it surrounds by steering motorcyclists toward a legal alternative.
Yellow Cat, Yellow Jacket, and Dome Plateau are worthy of SRMA designation. Yellow Cat and Yellow Jacket are densely roaded and increasingly popular among four-wheeled visitors, so they should have a motorized backcountry touring focus. Few adjustments are needed to the travel plan, except around Owl Canyon where road access should be preserved. A non-mechanized focus area could buffer the entire boundary of Arches National Park, wrap around Dome Plateau, and terminate near Dewey Bridge. Only a couple overlooks of Lost Spring Canyon and Dome Plateau are needed, but they should remain open all the way to the rim.
Utah Rims SRMA ought to extend further southwest to the Cisco Road. From the Cisco Road to Cottonwood Wash, a mountain bike focus could lay the groundwork for bicycle trails. From Cottonwood Wash to the Westwater Road, a motorcycle focus would help preserve Guy's Trail and associated singletracks. From Westwater Road to the state line, several existing singletracks should be recognized in the travel plan, plus one ATV loop in the northeast corner of May Flat. A non-mechanized focus area could be expanded from the Westwater WSA further southwest all the water to private property. The entire spur road to Big Hole could be closed to enhance primitive characteristics. None the less, the Westwater Canyon overlook road should not be closed. Mechanized visitors should be granted at least one viewpoint of the place that their activities are prohibited from.
The Dolores Triangle includes a few remote areas where primitive character should be preserved. By closing two less-valuable spurs, Big Triangle substantially expands the Westwater roadless area to the north. Further south toward Buckhorn Draw, a few roads could be added to ensure that quality motorized opportunities exist in the Dolores Triangle as well. From Steamboat Mesa to South Beaver Mesa, another focus area should be designated for primitive recreation. Half of the Dolores River overlooks could be preserved as cherry stems. Also, a road on the southeast ridge of South Beaver Mesa lies outside of this focus area, and should remain open.
The Sand Flats Road traditionally connected trails such as Hells Revenge, Slickrock, and Fins 'N Things. Paving the road, and prohibiting OHVs from pavement, has fragmented the trail system. Thus OHVs should be permitted to use Sand Flats Road from Hells Revenge exit to the end of the pavement. The new, reduced speed limit of 25mph should be preserved. A non-motorized lane should be constructed to parallel the road and reduce congestion. Additionally, the 1/4-mile slickrock route connecting Slickrock Trail with Fins 'N Things should be designated for two-wheeled use to alleviate traffic along the main road. All of these measures would make Sand Flats more user-friendly and manageable, without further impacts to the environment.
Special policies should continue permitting slickrock exploration. The Moab Field Office Off-Highway Vehicle Travel Map states that "Two-wheel motorcycles are allowed on established slickrock riding areas in the Slickrock Trail, Bartlett Wash and Tusher Canyon areas and on slickrock areas along the Monitor and Merrimac and Lower Monitor and Merrimac trails where such use does not further disturb vegetation or soils" (dated March 8, 2001 as part of emergency restrictions). In these areas, travel could be further restricted, but not so drastically as the draft RMP intends. Mechanized travel should still be allowed on any barren rock surface. Slickrock within one hundred yards of a designated route could remain open to motorized travel, except for Tusher Slickrock , which would be reserved for non-motorized use. This two-hundred yard corridor would accommodate the ways that people currently enjoy slickrock areas.
The Black Ridge area presents many potential recreation opportunities nearby Moab. The South Spanish Valley Mountain bike area could be extended to include part of Pole Canyon. This augments the variety of terrain, and provides enough room for a full-day's ride. Sweeping travel restrictions associated with the draft RMP warrant designating an area for specialized sports which depend on unrestricted areas. Durable and irregular terrain that is suitable for motorcycle and bicycle trials riding exists in Pole Canyon from the powerlines to Area BFE. In the same vein, a rock crawling area could be established on Black Ridge east of the powerlines. This area is littered with old mine roads, and is currently open to cross-country travel. The site could be limited to designated rock crawling routes, and adopted by local clubs. West of the powerline, the north flank of Black Ridge could be designated for equestrian use, as the backdrop to a residential area. The south flank could be a bicycle freeride area, since it provides one thousand feet of vertical relief, and graded roads for shuttling. Kane Creek is a dry wash from Highway 191 up to the Black Ridge Road. It should be open for OHVs to create a loop with Behind-The-Rocks while avoiding the highway.
Hatch Wash backpacking focus area could be expanded for better backpacking. Alternative C proposes to designate roughly twenty spur roads to the rim of Hatch Wash. However, only five are necessary to view most stretches of the Canyon.
Cameo Cliffs SRMA should also be expanded for better OHV riding. The current boundary offers a meager half-day for the skilled rider. Extending the SRMA east to Big Indian Valley could still avoid mining activity. Shifting the boundary north to the Brown's Hole Road could still skirt the nearby residential area.
Revising the draft plan will be a significant undertaking. Yet implementing the current plan would demand more from the BLM as use conflicts, recreation impacts, and non-compliance intensify. In the long run, I strongly believe the above ideas are better for land managers, recreationists, and conservationists alike. Thank you for your consideration.